featuring Lou "Blue Lou" Marini, Tom Bones Malone and Eddie Floyd
Saturday, October 8 @ 9pm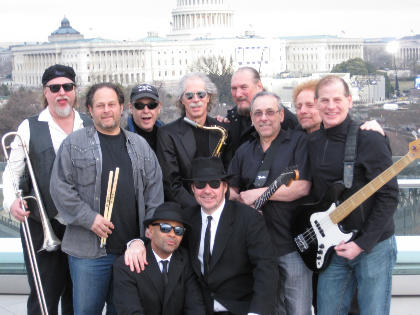 The Original Blues Brothers Band is alive and well. Original members, who were hand-picked by John Belushi and Dan Aykroyd, have assembled the ultimate rhythm and blues review and emerged as a powerful entity in their own right. The Blues Brothers Band is best known for the Universal Pictures feature films The Blues Brothers and Blues Brothers 2000 and the Atlantic Record triple-platinum album "Briefcase Full of Blues."
Steve Cropper played on his first hit for Stax Records when he was still in high school in Memphis in 1961 with "Last Night" by the Markees. The following year (1962), he teamed up with Booker T. and the MGs. They had a string of hits, including "Green Onions," "Hip Hug-Her," and "Time is Tight." The MGs became the staff rhythm section for Stax Records. They played on such hits as "I've Been Loving You Too Long," "Respect," and "Dock of The Bay" for Otis Redding; "In the Midnight Hour" for Wilson Pickett; "You Don't Know Like I Know," "Hold On, I'm Comin'," and "Soul Man" for Sam and Dave.
In 1975, Lou "Blue Lou" Marini and Alan 'Mr. Fabulous" Rubin became part of the horn section for the TV comedy show "Saturday Night Live." John Belushi, an actor in the show, loved hearing the horn section play with such artists as Joe Cocker, The Meters, Ray Charles, James Brown, Aretha Franklin, Jimmy Cliff, The Band, Dr. John, and Chuck Berry. Belushi chose Lou and Alan to be The Blues Brothers Horns.
Since regrouping in 1988, the Band has triumphantly performed each year in international venues large and small. In Europe, the Band played an unprecedented three sold-out nights in Paris' prestigious Olympia Theater, where the seats were removed for the first time in the history of the theater to accommodate the excitement exchanged between the Band and the audience during their performance. They have headlined at most of the Jazz and Blues Festivals throughout Europe such as Nimes Fair, France; North Sea Jazz Festival, the Netherlands; Pistoia Blues Festival, Italy; and Montreux Jazz Festival in Switzerland to audiences estimated up to 60,000 in one performance.
The Blue Brothers Band's album, "Live in Montreux," was recorded at the Montreux Jazz Festival and is available on WEA, as is their second album, "Red, White & Blues," which features guest Dan "Elwood Blues" Aykroyd on vocals and harmonica. Also available on CD is the hugely successful "Blues Brothers 2000" soundtrack featuring B.B. King, Eric Clapton, Steve Windwood, Aretha Franklin, James Brown, Blues Traveler and many others.
Recent highlights of the Blues Brothers "mission" include performing in Atlanta coinciding with the grand opening of the Summer Olympics, headlining Super Bowl XXXI in New Orleans along with James Brown and ZZ Top, and starring in the full-length feature film Blues Brothers 2000 with Dan "Elwood Blues" Aykroyd and John "Mighty Mack Blues" Goodman.
From 1998-the present, The Original Blues Brothers Band continues to headline Jazz, Blues & Rock Festivals worldwide, on the success of Blues Brothers 2000 and the hugely successful CD of the same name.
The Original Blues Brothers Band with Eddie Floyd take the stage on Saturday, October 8 @ 9pm